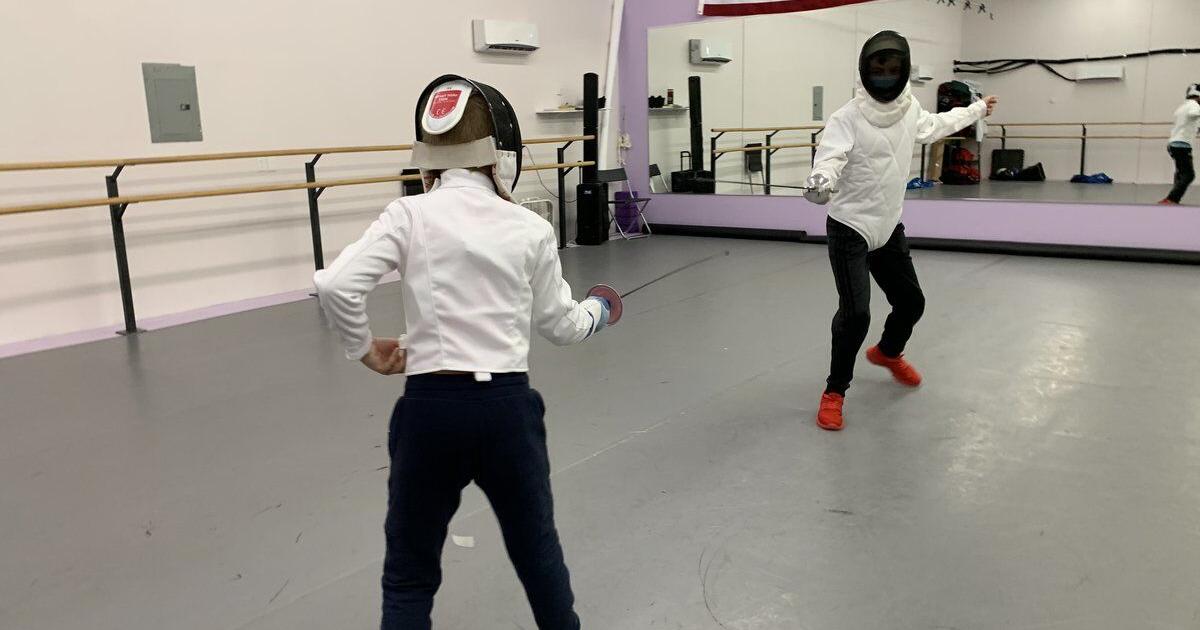 Educator: Fencing a game of 'physical chess' | News
En garde! Sword fights are the forte of one local fencing school, and a new class is about to start.
NEOK Fencing instructor Kevin Stretch first got into fencing after college, as he thought it would fit with his "kinda quirky" undergraduate degree in the performance arts.
"What got me interested [in fencing] was just how unusual it is," said Stretch.
Upon his return to Tahlequah, Stretch said after a few failed attempts to start a local fencing group, he was able to create NEOK Fencing under the Academy of Performing Arts. Stretch said he mostly teaches this activity to younger people.
"Fencing is called 'physical chess' because it's so mentally challenging," said Stretch.
During a match, a fencer needs to consider various things, like footwork and position, all while trying to figure out the opponent.
"There's a whole lot going on cognitively," said Stretch.
There's a whole lot going on in terms of speed, too. Stretch explained that when lunging, the tip of a fencer's blade can move "as fast as an arrow." Yet, there are disadvantages to watching such an incredibly fast-paced match.
"It's not a great spectator sport," said Stretch.
But his students don't have to worry about parrying before large contest crowds.
"We don't do competitions," said Stretch. "We're more of a social group."
Since students don't compete, Stretch said the equipment needed to get started is fairly inexpensive, as electronic scoring equipment isn't necessary. For beginner students, NEOK Fencing has equipment to loan out until they decide it's something they'd like to continue with.
However, fencing isn't exactly a Hollywood sword fight.
"It's not the swashbuckling you've seen in the movies," said Stretch.
Still, Stretch called the sport a "whole lot of fun" and an opportunity for students to work on self-discipline.
NEOK Fencing found its home with the Academy of Performing Arts. Lena Huffman is the owner of the Tahlequah dance studio.
"When creating choreography for classical ballet, I often had to stage various fight scenes," said Huffman. "Having no experience with any sword fighting, I always tried to find someone with experience, but when I met Kevin Stretch and found out he has been taking fencing since 1987, I knew i found not only what I needed, but I hoped I could offer in return a space for him to work with our youth in the area to introduce them to an Olympic sport called fencing."
According the Olympics' webpage for the sport, fencing was first included in the games during the 1896 Olympics in Athens. It has remained on the programme ever since.
"It's one of the few sports that has been in every modern Olympics," said Stretch.
Today, the Olympics holds both individual and team fencing competitions with three weapon types: the foil, epee and foil.
Huffman herself has taken classes with Stretch.
"He is a passionate teacher, carefully watching progress of his students and pushing to always be stronger, faster and more unpredictable," said Huffman. "I tried the classes myself and found them challenging and fun at the same time!"
Huffman recommended that those interested enroll in the school's upcoming summer session and if they wish to continue with more classes, they can sign up at the end of the intensive or at APA's open house on Aug. 6.
Check it out
NEOK Fencing's new summer session is scheduled for Aug. 1-4, from 5:30 to 7:30 p.m. More information about this and other classes is available on the NEOK Fencing Facebook page at: https://www.facebook.com/groups/neokfencing.