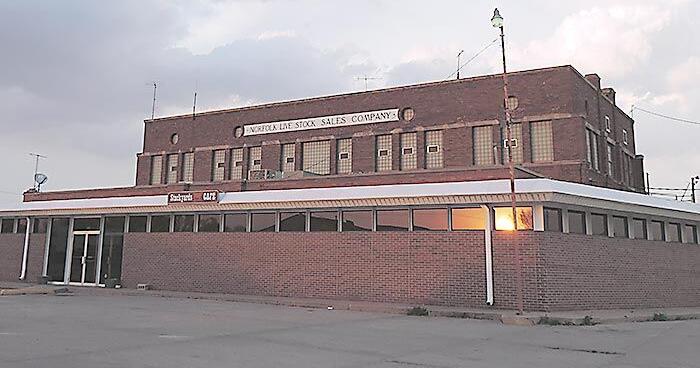 Former Norfolk Livestock Sales property eyed as home to new inclusive entertainment center | News
The vision of creating a family entertainment center in Norfolk has taken a big step toward becoming reality.
Americarts announced Monday that it had a signed purchase agreement in place with the current owners of Norfolk Livestock Sales, located at 1601 S. First St., and is launching a $2 million capital campaign called Americarts Founder's Circle to secure the 32-acre area.
"We know it's going to happen. I know it sounds like, 'How? This is a lot?' It is a lot, but we are beyond invested," said Stephanie Goodrich, director of inclusive workforce and communities with Americarts.
Plans call for a 120,000-square-foot family entertainment center to be built on the property. Goodrich said they would like to be able to save the front of the current building and repurpose the old cafe if possible. But if all goes as planned, demolition and site-prep work on the sales barn property will start this fall with construction of the new building beginning in the spring of 2023.
Goodrich is working with business partner and former Madison resident Robert Johnson to bring the center to fruition.
Goodrich, who has a doctorate in special education and education administration, said her passion is for educational programming, inclusion and accessibility for people who experience disabilities. She met Johnson, who has an autistic son, in 2016 while working in a leadership position with young adults with disabilities for Omaha Public Schools.
Johnson, Goodrich said, is a big fan of racing and family entertainment centers and has visited several throughout the country. "His favorite was this brand called Andretti's," Goodrich said, referencing Andretti Indoor Karting and Games.
After Goodrich left Omaha Public Schools, she began pursuing education counseling and through her work would take groups of students — both college-age and special education — on summer trips, where they would encounter challenges for some of the members of their group.
"Sometimes facilities are not accessible or even have accessibility in the forefront of their minds, and we have to improvise each time we go to make sure everyone is good and their needs are met," Goodrich said.
Through these trips, Goodrich and Johnson began talking about merging their passions to build an entertainment center that offered educational programming and inclusion and accessibility for those who experience disabilities. In the course of their discussions, they decided Norfolk would be the place where they would like to turn their vision into reality, Goodrich said.
There are four main attractions Goodrich said they plan to include in the first phase of Americarts in Norfolk: An 8,000-square-foot roller rink, an inflatable park, bumper cars and three different go-kart tracks, including a multi-level track with karts that race up to 40 miles per hour.
"There's nothing else in the Midwest that's indoors, as far as multi-level," Goodrich said of the go-karts. "The nearest is Dallas, Texas. The karts go 40 miles per hour. It's all electric."
Additional pieces include an arcade, restaurant and bar and an outdoor movie space in the back lot of the building. Goodrich said they also are looking at educational pieces to the facility and offering educational field trips.
The Americarts Founder's Circle capital campaign will provide a variety of benefits for those who are interested in contributing. They include a keychain and plaque, exclusive invitations to events at the sale barn before demolition, early access to the center before its grand opening and early booking for parties and events. Founder's Circle memberships may be purchased at AmericartsNebraska.com until Tuesday, Sept. 20.
Goodrich said she hopes the community will see the value in their vision and support their efforts as they raise the $2 million needed to move forward.
"Our team is excited about moving this community-focused project forward and providing one of the most unique family entertainment experiences anywhere in the Midwest," Goodrich said.