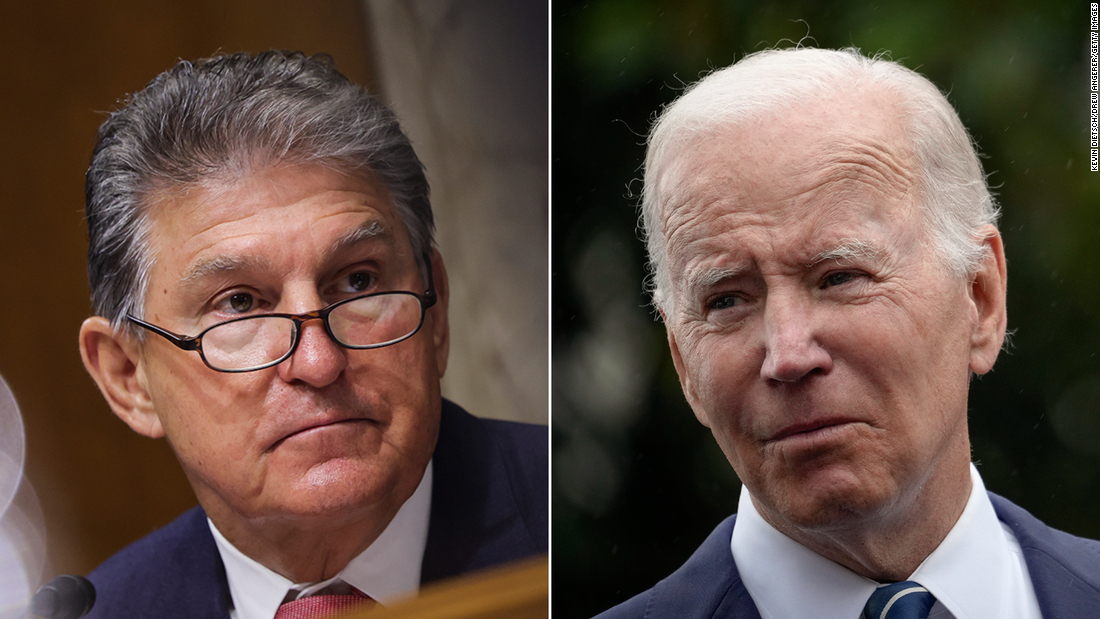 Opinion: Joe Manchin is a symptom of Biden's political ailments
This setback only partially explains Biden's dismal
33% job approval rating
among voters, according to a recent New York Times/Siena College poll. Considering that only 13% of those polled said they believed the country was on the right track — the lowest numbers since the 2008 financial crisis –his approval rating is hardly surprising.
What is surprising is that even among Democrats, he is not well liked. 64% of polled Democratic voters said they wanted another Democrat to lead the presidential ticket in 2024. That said, no one should conflate Democrats' lack of enthusiasm for Biden with support of Trump or another Republican alternative in 2024. Democratic voters will likely support whoever leads their party in 2024.
So, how did Biden's presidency reach this new low?
It began with Biden and the Democrats misreading their 2020 election mandate, which wasn't much of a mandate at all. While Biden won the presidency by over 7 million votes, Republicans significantly exceeded expectations in the House of Representatives, where they picked up over a dozen seats. Not one House Republican who sought re-election in 2020 lost his or her seat.
In short, Biden's electoral victory was attributable to the exhaustion, disgust and contempt so many voters had for his rival, then-President Donald Trump. Biden was an acceptable alternative — not a beloved one. And based on Republicans' performance in the House, some GOP policies clearly remained popular with the American public.
Biden notably campaigned as a transitional figure who would pass the proverbial torch onto the next generation of Democratic leadership. Implicit in the Biden campaign message was that he would likely serve one term, even though he
now states
he intends to run again in 2024. But few voters saw Biden as a transformational leader, and he most assuredly did not have the congressional majorities to enact a transformational legislative agenda like the one he has pushed.
Indeed, the big mistake Biden and Democrats made was believing voters gave them control of Washington, DC, to force a progressive agenda through Congress. On the contrary, voters wanted stability, normalcy and moderation — a fact Manchin is quite willing to remind Biden and his congressional colleagues of. Americans wanted a more conventional president to address the Covid-19 pandemic, and they wanted an end to the daily chaos of the Trump presidency.
Instead, in the first few weeks of the Biden presidency, Democrats jammed a bloated Covid-19 relief package through Congress on a partisan basis that, in retrospect,
has contributed
to our current inflation problem, which so many in the Biden administration
casually dismissed
as "transitory."
Whatever credit the administration justifiably claimed with their successful Covid-19 vaccine distribution program evaporated last August upon the disastrous withdrawal from Afghanistan. America's standing in the world took a hit among friend and foe alike as this political and humanitarian catastrophe unfolded in real time — a humiliation reminiscent of the fall of Saigon that ended America's involvement in the Vietnam war.
Even when Biden scored an impressive legislative victory on a landmark bipartisan infrastructure law, that accomplishment was marred by internal Democratic squabbling leading up to its passage, as progressives took the infrastructure legislation hostage for weeks in their futile attempt to pass the very expensive Build Back Better initiative, a grab bag of virtually every progressive economic and social policy proposal.
The bad news for Biden is that the economy and inflation continue to dominate voters' priorities in the upcoming midterm election. According to a Gallup poll this month, 85% of US adults say the economy is either extremely or very important to how they vote in November.
Notwithstanding dubious proposals on
gas tax holidays
and
windfall profits
, there is little Biden can do over the next few months to lower the cost of gasoline and groceries.
Even if the sorry state of the economy dooms Democrats in the midterms, it's important to remember that that Biden's presidency isn't necessarily over. Bill Clinton and Barack Obama both won reelection comfortably after midterm blowouts. The big problem for Biden, when compared to his Democratic predecessors, is that he is not a fresh face, nor does he represent the next generation of Democratic leadership. His own base is fed up with him — and it seems there is less and less Biden can do about that.